(Backorder) Beatrix – Cutie Doll 3'11 (120cm) Cup B enhanced model with jointed fingers (Sold out)
incl. sales taxes, free shipping, customs fees for the U.S. and certain regions
This model is an enhanced version and will be shipped from our MA facility. This model comes with a lot of features, such as standing feet, body heating with a thermostat, voice function with touch sensors, gel filled breast, articulated hands and a tongue. What you see below is what you are going to get.
We have limited stock for enhanced model. Since it's shipped to the US by cargo, we offer you a chance to save a few hundred dollars.
Shipping Notes:
The doll will be shipped from the Boston,MA warehouse by UPS usually within 48 hours after we receive the order
For Canadian customers, there will be a $150 surcharge to cover the extra shipping cost (invoiced separately)
Real factory pic:
What you see is what you are going to get.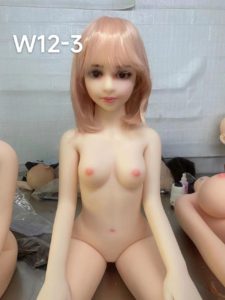 My Story
Return Policy
What's in Package
One Doll with the chosen option
One Doll head with the chosen option
One set of wig with the chosen option
Professional and discreet shipping case
One complimentary gift set:

One piece of sexy lingerie (random selection)
One piece of soft non-staining blanket
One heating tube
One cleaning kit
One comb
One pair of gloves
One extra set of nails (for selected model only)
Warranty
Q & A
There are no questions yet
Only logged in customers who have purchased this product may leave a review.